Weddings at 1885 Farms
"We could not have found a more perfect venue for our wedding! The Barn is absolutely gorgeous and the grounds really speak for itself! We could not have asked for a more welcoming group of people, a better venue, or a more wonderful experience. Very happy we made the easy decision to celebrate our big day at 1885 Farms!" -Kylee
Recently engaged? CONGRATS on this exciting new chapter! We're so glad you're here.
Our luxury properties are so much more than just wedding venues – they're full-on "experiences" that are as unique as the couples whom we serve.
So, what sets us apart from the rest?
Just imagine . . .
. . . wandering the flower fields at sunset the evening before your wedding, hand in hand with the one you love.
. . . rounding up your crew to spend the afternoon cutting fresh flowers from the flower fields and arranging your own wildflower bouquets.
. . . having full access to our massive inventory of wedding decor and specialty pieces and then watching your vision come to life.
. . . waking up on the morning of your wedding, spending some time in the sauna or eucalyptus infused steam room, soaking in the Jacuzzi tub, and then enjoying an in-home massage before getting ready for the best day of your life.
. . . exchanging vows among rows and rows of wildflowers and sunflowers in our flower field, or while surrounded by a canopy of trees in our unique wooded ceremony area.
. . . soaking up every moment on your wedding night as you and your guests play yard games, gather round the fire and dance the night away under a moonlit sky.
. . . spending the next day surrounded all of your favorite people as you relax and experience all the amenities each property has to offer.
Imagine . . . cultivating an entire experience for you and your loved ones that will be cherished for a lifetime to come.
And so, what sets us apart?
It's our on-site luxury accommodations for your entire wedding party and family. It's the ability to turn your "Wedding Day" into an unforgettable "Wedding Weekend". It's all the extras included in our packages. It's our passion for creating an experience that exceeds every expectation. It's our attention to detail and pursuit of perfection. It's the relationships we form with our couples along the way.
It's the signature 1885 Farms experience. 
The barn
at 1885 Farms
Your love is as timeless as the exposed wooden beams in this old barn and enduring as the massive sandstone foundation blocks that line its walls. Your story is as unique as the shape of the structure – eight equal sides that unite to form a perfect octagon. Celebrate your marriage by inviting your guests to join you in a one-of-a-kind space that embodies old world charm and authenticity without sacrificing any of the modern day luxuries.
Capacity: 200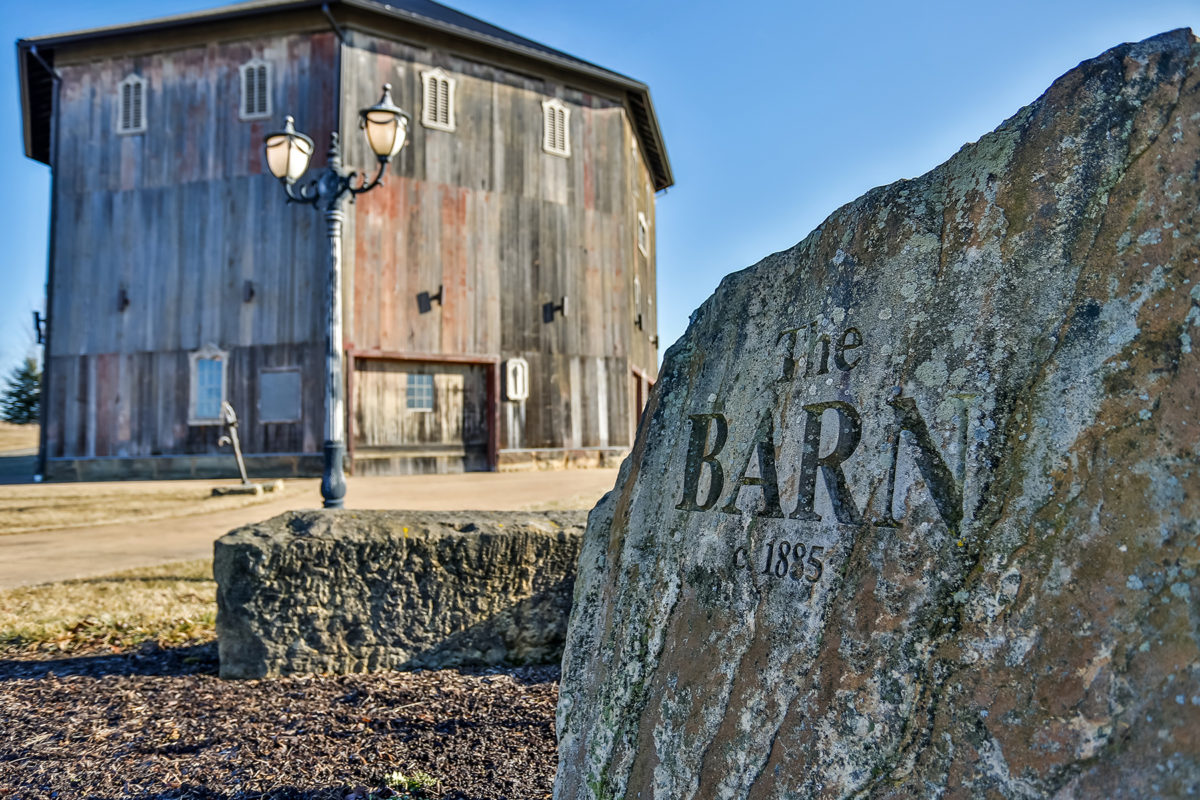 The STABLES
at 1885 Farms
Exchange your vows beneath a quiet canopy of trees, surrounded by the natural rustic beauty in our unique outdoor chapel in the woods. Then treat your guests to a grand celebration of your love under the cover of our stunning white canopy sail tent set against a backdrop of sparkling water.
Capacity: 200